PAINTINGS PRINTS & CICADA JEWELLERY
Printed Canvases - UK DELIVERY ONLY
The Image is printed onto the Canvas which is then attached to a 38mm deep wooden stretcher frame. The sides of the stretched Canvas are white. The photo to the right of this text shows a 14" square Canvas which illustrates this.
A hanging attachment is fixed to the top stretcher bar and there are four felt 'coins' at each corner of the Canvas to protect the wall on which the Canvas will be hung. This is shown on the next photo to the right of this text. The 'D' rings and wire shown were added by me for exhibition purposes and will not be present on ordered canvases, but the hanger on the top stretcher will.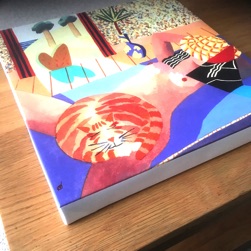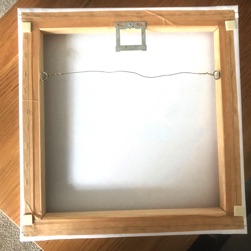 I have already prepared a number of files for printing 14 inch Square Canvases. I can send these immediately to my printers and they can produce the finished Canvas for courier delivery to your address. This process normally takes about 3 days. These 14 inch square Canvases are displayed below with a purchase button beneath each one. They are £75 each + £10 packing/delivery. I also have a number of larger files already created and these images, with prices and purchase buttons are on the following few pages. Just click the NEXT PAGE button at the top of this page.
Please note that clicking the purchase button does not commit you to a purchase. You will be transferred to the ultra secure RomanCart site to proceed with payment, and should you not wish to continue then you can delete your choice. Obviously, I hope you don't! Also please note that if you buy 2 or more of these 14 inch Canvases at the same time, the total packing/delivery cost remains at £10 only.
I have over 80 images available to view in the PRINTS section of this site, so if you want to have any one of these produced as a canvas then please contact me to arrange for this to be done, mentioning the title of the picture and the size you would like (The canvases are produced in increments of 2 inches so, for example, 32" x 26" is possible, whereas 31" x 25" is not). I will give prompt attention to any enquiry. Please click the CONTACT NICK ORSBORN text at the bottom of any page on this website.